Spokenotes, 2015 April
Published in the Sonoma County Gazette, April 2015
Bicycling Lightly on the Earth
What better way to honor the Earth in this Earth Day month, than to forgo the motor car for a day, a week, or forever.  With the United States finally catching on to the cargo bicycle revolution, I thought I would document a day in the life with a cargo bike...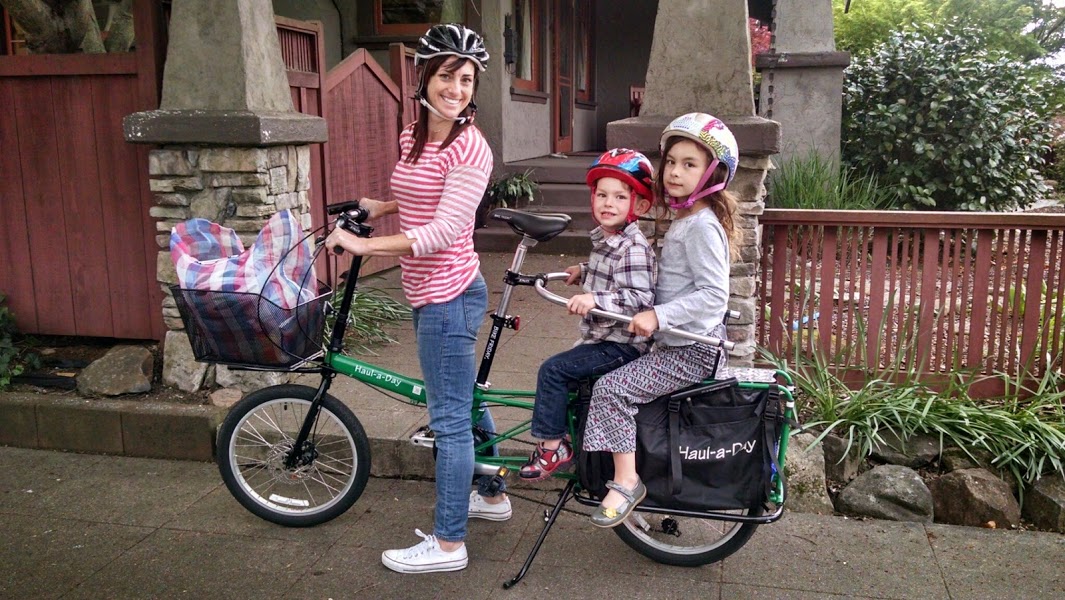 Rolling up the garage door in the morning, the first decision I face is the toughest -- should I drive or should I ride?  This day I choose the bike, nestled there beside the car, occupying very little space...
Today I need to bring a 50lb bag of potting mix to my shop, for use in a planter.  Too heavy to walk to work with, but it's a snap on my cargo bike with the 400lb carrying capacity...
On the way home after work, I stop in at the California Welcome Center in the train station at Railroad Square, to talk with the nice volunteers about upcoming events in our county.  I tend to be most interested in the bicycle rides.  I ride my cargo bike right up to the door.  Parking is no problem, using the bike rack donated last year by BikePartners.net Bike Shop...
Keeping up with the groceries is a breeze on the cargo bike!  The ride to the market is refreshing, and the bike has plenty of room for five or more bulky bags of groceries...
Did I mention?  The cargo bike can stand on it's tail, squeezing into the space next to our front door...
Attention parents!  My neighbors have discovered the fun and convenience of this cargo bike ---aka 'The New SUV'!  Now going to school or the park is an adventure, and good exercise, too...
And the best part?  This zero-carbon, super fun, versatile hauling bike is not mine!  It's ours!  You  can check this and other cool bikes out from the Free Lending Library at the Sonoma County Bicycle Coalition, www.bikesonoma.org.  Do it!  The Earth will thank you!
Geoffrey Smith sells the Bike Friday Haul-a-Day cargo bike and other zero-emission vehicles (ZEV), at his BikePartners.net Bike Shop in Railroad Square, Santa Rosa.