Are big wheel bicycles really more fun than the small wheel variety? We decided to find out....
For close to nine years now, we at BikePartners.net folding bike shop have been selling bicycles that transport easily. For this reason most of the models that we sell feature small wheels either 20 inch or 24 in. When folded, these bikes can easily be stored in an RV, an airplane, under a dorm room bunk bed, or even packed in a suitcase for airline travel. Very popular for international touring and commuting, they vastly simplify the process of traveling with a bicycle and the ride quality is exceptional.
The compact wheel size does come with some caveats however. As I am quick to point out to my customers, the small wheels represent no significant disadvantage for speed when traveling under 15 miles per hour, which is a typical bicycle touring speed. However for speeds about 15 up into the twenties, the larger wheels do create an advantage in that the rotational inertia tends to keep the bicycle moving forward better. Call it the flywheel effect. Furthermore, the larger diameter wheel means that the minuscule course corrections that are inherent in a two-wheel bicycle are smaller and broader, therefore creating less resistance to forward motion.
A recent bicycle tour that I participated in with 40 of my closest friends proved the point. We traveled 350 miles through the beautifully scenic Klamath River watershed, featuring wild and scenic rivers and federal Wilderness areas. It was a beautiful area devoid of much traffic. While I enjoyed the beauty tremendously, I did miss seeing my fellow riders. Why? Because they pretty much pulled away from me every morning right out of the campsite due to their lightweight 700c road machines which rolled faster than my beautiful Bike Friday Pocket Rocket 20 inch (451 ETRTO) wheel road bike. My last view of my friends was of their Spandex Lycra butts as they disappeared down the road. I really enjoyed the trip and communing with nature and my own thoughts, but I did miss riding with my friends.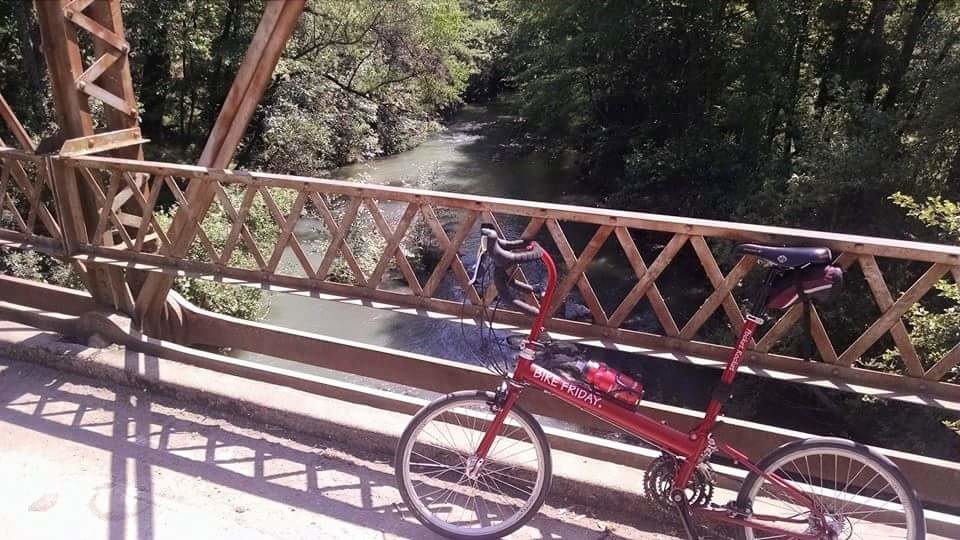 Our Bike Friday Pocket Rocket in the wild
So I did what any reasonable person would do. I joined them. I'm proud to say that BikePartners.net folding bike shop now offers serious road bike options in the form of the Ritchey Breakaway frame. (See the photo accompanying this article). Made of heat-treated high-tensile chrome moly steel for comfort and shock absorption, this beautiful, lightweight (20 lbs) machine is every bit the match for my friends on the tour. I'm looking forward to a rematch!
The Ritchey Breakaway design is unique in the bicycle industry in that it incorporates the ability to disassemble the frame for transport, without adding significant bulk and weight as is the case with other solutions. The Ritchey name and product line are legendary in the bicycle world. Yes the wheels are 700c and therefore will not pack as small as the Bike Friday Pocket Rocket, so don't plan on traveling with a Samsonite suitcase inconspicuously through the airport and baggage carousel. You will need to keep a close eye on the case when you are traveling.
In the several hundred miles I have put on this bike since acquiring it, I'm happy to say that it is a dream. Its physical beauty is matched by his prowess on the road. The chrome-moly steel frame capably absorbs road shock, and the carbon fiber fork is both resilient and precise in steering. We went with the standard road configuration featuring Ultegra grupo, and side pull rim brakes. When operated properly, rim brakes are precise, powerful enough, and simple to maintain versus disc brakes.
Stay tuned to this blog for future reports from the road as we put more miles on this Ritchey Breakaway Road frame bike!
If you would like to put your own miles on this beautiful machine, visit our website to rent and or purchase.